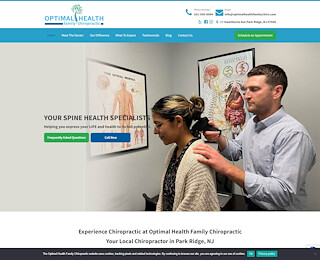 Optimal Health Family Chiropractic is a leading pain management clinic for sports injury recovery in Paramus. We help athletes and sportspersons recover their energy and stamina after a tiring game with spinal manipulation.
Can A Chiropractor Help With An Injury?
Chiropractors possess the qualification, experience, and training to treat issues in the spine, neck, and extremities using manipulation. Chiropractors use techniques like manual manipulations, massage, hot/cold packs, ultrasound treatments, electrotherapy, etc., and help patients find relief from chronic pain conditions.
However, go to a licensed chiropractor to avoid health complications and receive the best care in recovery. Chiropractors can help you manage pain, prevent your need for surgery, reduce your reliance on prescription drugs, improve your range of motion, and increase flexibility. Some chiropractors specialize in the treatment of sports injuries. As an athlete or a sportsperson, meeting a chiropractor can help you improve your performance.
Can Chiropractors Help With Torn Tendons?
Muscle and tendon trauma include tears, strains, and inflammation after an injury or accident. In case of a car accident, athletic injury, slip or fall accident, workplace injury, or impact injuries, a chiropractor can help you overcome pain and attain a full recovery. As a pioneer clinic for sports injuries and chiropractic care, we use a combination of spinal manipulations, massage therapy, physical therapy, and electro-muscular stimulation to address and treat pain, decreased mobility, and inflammation.
Chiropractic sports injury treatment encompasses a non-invasive and holistic approach, providing relief from pain, restoring full range of motion, and boosting quality of life. Our non-surgical treatment for sports injuries focuses on identifying the root cause of injury and creating a customized treatment plan to resolve it.
Role Of Chiropractic Care In Sports Injuries
Chiropractors not only help people suffering from neck and backaches, but they also help athletes and sportspersons. Chiropractic care can provide:
Chiropractic care can relieve aches, pains, and soreness due to strenuous physical activities. Chiropractic care for sports injuries can align joints, muscles, ligaments, nerves, and discs and improve athletic performance. More importantly, regular visits to the chiropractor's office can relieve muscle soreness and alleviate tension.
Athletes who go to the chiropractor enjoy higher flexibility and a better range of motion. Flexible athletes are less likely to suffer injuries during a game and exhibit improved physical performance.
Chiropractic adjustments can improve blood circulation, relax the tight muscles, ligaments, and tendons, and break up scar tissue and adhesions. Spinal manipulations also reduce pain and inflammation in the long run.
What Conditions Improve With Chiropractic Care?
Chiropractic care predominantly helps correct the misalignment in the spinal vertebrae and improves spine and joint function, back and neck pain, headache, whiplash, strains and sprains, and overuse injuries. They can also improve work and sports-related injuries and arthritis and ease restricted movement in the back, shoulders, neck, or limbs.
Call 201-505-8984 to book an appointment with Dr. Andrew O'Neill for sports injury recovery in Paramus. Optimal Health Family Chiropractic is a top-rated pain clinic for back, neck, and headaches, post-op rehabilitation, and recovery from injury. Let us help you improve your performance in the game with chiropractic manipulations.