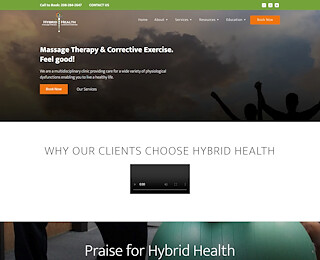 Hybrid Health is the center for the best massage in Boise, and we help individuals overcome a variety of chronic pains with our highly acclaimed therapies. We are the best therapists in the city to offer manual therapy, myofascial release, sports massage, and intra-oral massage.
Massage therapy for addiction recovery
Massage therapy is one of many modalities used by most rehab centers to help their recovering addicts overcome substance abuse and alcoholism. Massage therapy helps bring the mind, body, and soul into alignment. As an addiction treatment modality, it helps relax the mind of recovering addicts and helps them overcome the unpleasant withdrawal symptoms.
Insomnia is among the most common withdrawal symptoms in individuals recovering from drug addiction. Massage therapy relaxes the sore and tense muscles in individuals and helps them sleep better. Most individuals battling addiction issues have psychological disorders like anxiety, depression, bipolar disorder, post-traumatic stress disorder, etc. With the help of massage therapy, we help recovering addicts overcome feelings of guilt, anger, aggression, hopelessness, and attain mental peace. It also prepares the mind and body of recovering addicts for the psychotherapy treatments.
It is also an effective approach to keep individuals focused on treatment and helps them combat cravings and triggers with deep relaxation. We offer the best massage in Boise that helps treat a variety of health issues.
Who can benefit from massage therapy?
Individuals with highly stressful jobs can benefit considerably from weekly massage therapy sessions. It relaxes the brain, muscles, tissues, and promotes blood circulation. It also recharges and prepares you for a highly productive work week.
Furthermore, individuals battling conditions like anxiety, depression, OCD, etc. can greatly benefit from massage therapy. Also, post-operative patients and those recovering from sports injuries and soft tissue strains can benefit largely from massage therapy as it aids in speedy recovery. It also improves symptoms in patients suffering from digestive disorders, fibromyalgia, insomnia, and arthritis.
How often should I get a massage?
The frequency of getting a massage depends on factors like your medical needs, stress level, emotional needs, and budget. Individuals who get massages regularly enjoy improved immunity, better sleep patterns, and lead a pain-free life. Getting massages regularly can calm your nervous system, improve blood circulation, relieve joint and muscle pain, and help improve focus and concentration.
If you do not have the time or budget to get weekly massages, make sure to get massages at least once a month. See it as a long-term investment in your health as massage therapy acts as a stress-buster, promotes psychological wellness, and improves your performance in day to day life and at work. Also, if you are highly reliant on prescription medications for pain-related ailments, psychological disorders, or insomnia, regular massage therapy can reduce the symptoms of your condition and help you lead a healthier life.
Call Hybrid Health to enjoy the best massage in Boise at the lowest price. Whether you are suffering from chronic pain or other kinds of ailments, we can help you overcome your discomfort with massage therapy.
Hybrid Health LLC
2082842647
3131 W. State St.
Boise ID 83703 US